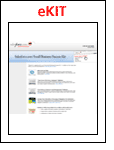 Learn how to attract and track more website visitors, ensure consistent follow-up, achieve increased sales productivity, keep valuable leads from slipping through the cracks and more with this exclusive Salesforce Small Business Success kit.
With your small business kit, you'll instantly get access to:
1. Sales & Marketing Success Map: See every step from first contact to close and get best practices for capturing leads and building interest
2. Marketing in the Google Era, a webinar from the pros to help you take advantage of search, email, web tracking and more
3. Free 30-day trial of Salesforce for up to five users
4. Special discounts on services and more!
Click here to download your free Success Kit!
Keep It High Touch!
-Ernie DiMalanta